Wedge Plows -- Unusual Designs
Wedge, or "V", plows are a mainstay of the snowfighting fleet. They are also among the simplest pieces of snowfighting equipment. Wedge plows may by symmetric, throwing snow to both sides (for single-track lines), or they may throw snow only to one side (for double-track lines). Most wedges have "wings" to allow them to clear a wider path, and many have flangers.
The plows in this section are old, unusual, custom-built, converted and improvised plows. See Wedge Plows Part 1 for the "standard" designs.
---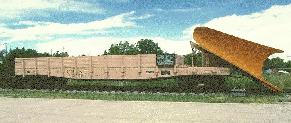 Chicago, Burlington & Quincy 205085 at the Colorado Railroad Museum. This is about as simple as plows come: a flatcar with a huge "V" bolted on.
Photo: Brian Fritz
---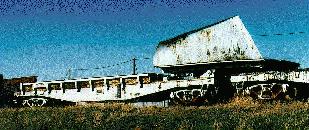 Santa Fe 199385 at Vaughn, NM, 13 April 1986. This is a homebuilt plow, using a 1924-built flatcar. Note that the blade is hinged, so it can be raised onto another flatcar for transit.
Photo: Evan Werkema
---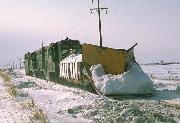 Burlington Northern plow at Mediapolis, Iows, 1982. This is another very simple plow. just a steel "V" bolted onto a flatcar.
Photo: SEDD@aol.com
---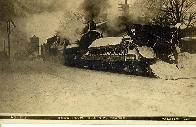 A Chicago & Northwestern wedge at Palatine, Ill. This is another simple plow, made up of a gondola or flatcar with a "V" bolted on. Postcard dated 1917.
Photo: Postcard courtesy of Alan Radecki
---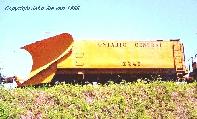 Ontario Central X2245 at Victor, NY, October 1996. This appears to be a homebuilt plow, but is somewhat more elaborate than the flatcar plows, having an enclosed carbody. It might be built on a steam locomotive tender frame.
Photo: John Stewart
---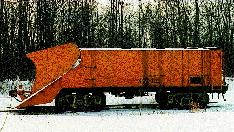 Ontario Midland X242 at Sodus, NY, Feb 1996. This plow seems to be identical to the Ontario Central plow, and may have come from Ontario Central.
Photo: John Stewart
---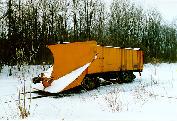 Another view of OM X242.
Photo: John Stewart
---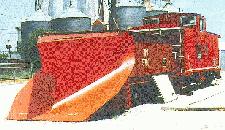 Missouri Pacific X5790 at a railroad museum, Atchison, KS, 10 July 1990. This small plow appears to have been built on the frame of a steam locomotive tender.
Photo: Evan Werkema
---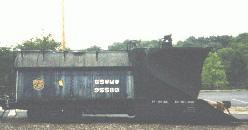 SSW #95584 at the Museum of Transport, St. Louis. This plow appears to have been converted from a "whaleback" tender.
Photo: Dave Pierson
---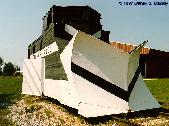 Escanaba & Lake Superior 100 at the National Railroad Museum, Green Bay WI. An eldery wooden plow of distinct desgign. Note the low-level wings.
Photo: Dan Dawdy
---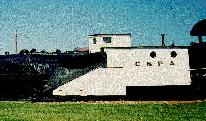 Cloudsport & Port Allegheny wedge at the Railroad Museum of Pennsylvania, Strasburg PA. This unnumbered single-track wooden plow was built around 1895.
Photo: Peter Toppan, courtesy of Andrew Toppan
---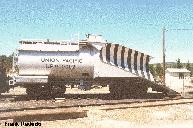 Union Pacific 900002 at the Feather River Railroad Society. This wedge was converted from a steam locomotive tender in 1949.
Photo: Frank Radecki, courtesy of Alan Radecki
---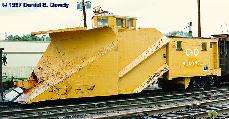 Chesapeake & Ohio 914022 at Ludington, MI, 4 October 1986.
This is an elderly plow, apparently of in-house design and construction.
Photo: Dan Dawdy
---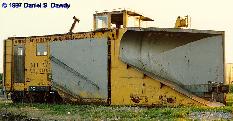 Milwauke Road X900103 at Sturevent WI in March 1988. This is a somewhat unusual double-track plow, possibly a homebuilt affair. Note te large wing.
Photo: Dan Dawdy
---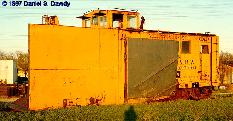 Left side view of MILW X900103
Photo: Dan Dawdy
---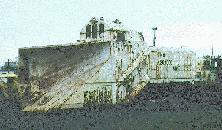 Chicago & Northwestern X263000, a unique "kitbashed" wedge plow, Boone, Iowa, 18 May 1995. This plow was built from the blade and wings of a CNW left-hand dual-track plow, grafted onto the nose of an old RSD-5. Most of the original carbody has been retained, as have the original trucks. The Alco cab was kept but raised up to provide a clear view over the blade.
Photo: Evan Werkema
---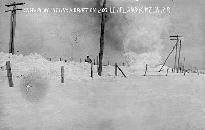 Wedge plow pushing through a drift on the Big Level & Kinzua Railroad. This is a view from the early 20th century, and the plow is obviously pushed by a steam locomotive.
Photo: Postcard courtesy of John Stewart
---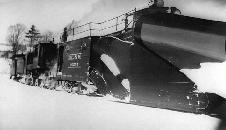 Delaware, Lackawanna & Western 99255 at Apulia (near Syracuse) NY, circa 1918.
Photo: Courtesy of John Stewart
---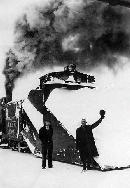 Another view of DL&W 99255
Photo: Courtesy of John Stewart
---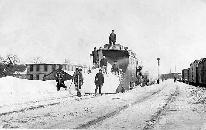 A New York Central plow at Adams, NY, early 20th Century.
Photo: Courtesy of John Stewart
---
This feature created and maintained by Andrew Toppan.
Copyright &copy 1997, Andrew Toppan. All Rights Reserved.
All photographs are copyright by the photographer.