Argentina Glacier Loses Giant Wall of Ice
Mon Mar 15, 2004
AP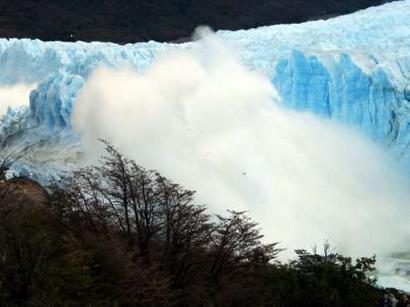 PERITO MORENO GLACIER, Argentina - Giant blocks of ice sheered off a wall of Argentina's Perito Moreno glacier, collapsing with a roar into a Patagonian lake -- a spectacle not seen in 16 years.
Giant chunks of blue and white ice fell for several days before the thunderous crash on Sunday. Tourists applauded as the 220-foot-high wall of ice crashed down.
The 3,000-year-old glacier known as the "White Giant" is one of Argentina's leading tourist attractions and a UNESCO (news - web sites) World Heritage Site. It spans a swath of southern Patagonia, ending abruptly in a translucent blue wall of ice overlooking Lago Argentino, Spanish for the Argentine Lake.
The glacier forms a natural ice dam spanning part of the lake. But water pressure had been building in recent weeks, forcing a large section of ice to collapse.
Park officials say the last time such a large collapse was witnessed was in 1986.
Perito Moreno is the main attraction in Argentina's National Glaciers Park near El Calafate, some 2,000 miles southwest of Buenos Aires.
Located near the southernmost tip of South America, some 63 Patagonian glaciers -- some blinding white and others a deep blue -- cover a remote region totaling 6,600 square miles or river lakes and fjords. Each year, thousands of tourists visit the glaciers.