AJR
Philadelphia, PA
The Met
November 15, 2019
by Mudman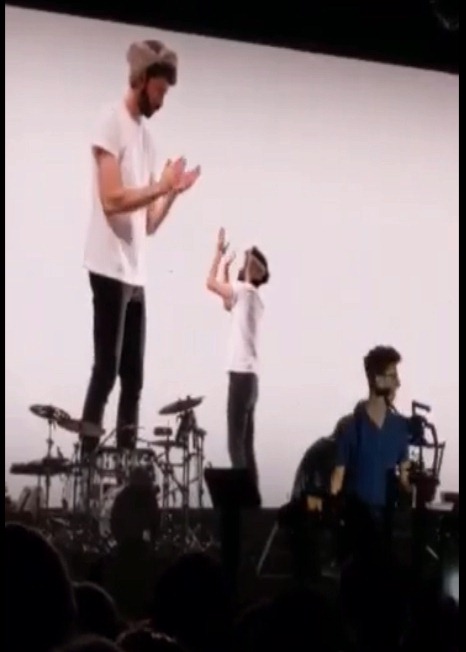 (Rating: A+/10) Let's skip the meaningless number ratings and glowing praises for the best live show I've ever seen. Instead, let's go right in and talk about what made this show so successful. Last weekend's AJR concert was an outstanding representation of what live music should be.
First and foremost, people are there for the music, so that's probably a good place to start. If you haven't heard AJR, I cannot recommend them enough. It's music written for music people, with mass market appeal. Adam, Jack, and Ryan (AJR) manage to defy the very genres they seek to emulate. To say they are alternative rock, D&B, or pop is to misunderstand the question they're asking.
Seldom, if ever, have I truly felt like a live rendition of a song was of superior quality to the studio recording. It makes sense, artists have dozens of takes to get it right and editing can polish up most anything else. As you might guess from my tone, this show shattered that expectation. Between Jack playing half a dozen instruments and the fluid blending of live and synthetic instrumentals, it was clear this show had been coordinated and rehearsed to perfection.
In what was already a standout performance, one thing in particular continued to impress above and beyond. The addition of a live trumpet player was brilliant. Though AJR is a trio by default, they supplemented themselves with two additional musicians for their tour. They use enough sounds and instruments that they still needed to add sound clips for some of their songs, but they consciously chose to add a physical horn to their ensemble. It brought a physical presence to the show that was a stunning contrast to the modern sound they produce. I had to look up JJ Kirkpatrick after the fact as the audience was cheering too loud -- deservedly so -- during his introduction. Bravo JJ.
Perhaps you're already a fan of AJR, though, and you're curious what to expect during a live show. They certainly didn't disappoint with their stage presence during their second, consecutive, sold out night at the Met. It was hard to tell who was more into the show, the audience or the band. Clearly, they love what they do.
Effects-wise, the design was on par with NIN and Dream Theater (historically two of my favorites in this realm.) The colorful worlds of the show were more than backdrops; they were brought to life by a semi-interactive display, making it feel as if you were watching a play at the Neotheater.

At one point, a sheet was dropped in front of the set for an acoustic performance. For the next song, it appeared as though they were playing from behind the curtain with only their shadowed silhouettes being visible. Suddenly, Jack's silhouette jumped twenty feet up, grabbing their lighting rig and walking on the walls. They of course, dropped the curtain before the end to show that they were indeed playing the entire time. Still, it gave the show a larger than life feel.

The next time they come around, I'd be surprised if they were able to fit in the Met. Certainly, they'd have to add a few more days of shows. Be sure to buy your tickets early, because wherever they go it's sure to be another great show.
VIDEOS
PICTURES