West Chester, PA — Note: The Note is a music venue. The Note is giving bands a great place to perform in the most difficult of economic times. Not only that, they also offer an "all ages" concert experience. More often than not when an up-and-coming band goes on the road, they can only find stages in front of "over 21" crowds. The Note allows youth a chance to see artists they usually don't get an opportunity to view live.
Courage Pills
The opening act, Courage Pills, is a local band that is growing in skill and popularity. The five-piece band is able to muster up a solid punk rock sound that evolves into an almost progressive groove. The lead guitarist pulls off some mean solos, as well as, fusing with keyboards to create a full sound.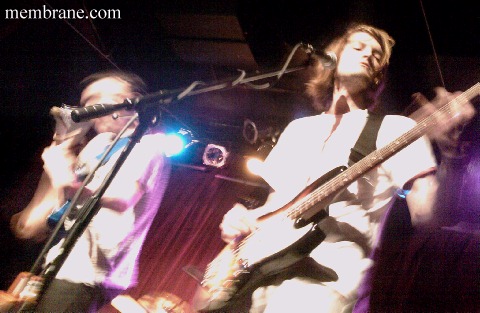 Cage The Elephant
Cage The Elephant aptly describes the live performance of the band (kind-of like a bull in a china shop.) Their roots are in Bowling Green, Kentucky. Throughout most of their songs, you get that swampy blues and rockabilly inspiration. Surprisingly, their fan base isn't home grown. For the past year, they have been at the forefront of a British invasion. After signing with EMI and releasing an album, they've returned to the states for a tour.
Brothers, Matt and Brad Shultz, handle lead vocals and guitar. Both Matt and Brad perform in a frenzied state that is reminiscent of a snake handling, tongue speaking religious revelation.
The band plays as a cohesive unit. When queried about songwriting, copyrights and publishing, Matt said, "We all work together on the songs and share the credits." For many years, artists had to give up their publishing rights and ability to create outside of their recording contracts. Matt went on to say, "We've kept complete control over our music and can do whatever we want."
Lead guitarist, Lincoln Parish, actually looks more like Matt's brother than Brad. Lincoln has the ability to add a lot of the retro embellishments. Whether it's a bluesy slide or a James Brown funk, he sucks you in with a catchy hook.
Coming out from behind the long hair covering his face, bassist Daniel Tichenor says he is shy. Perhaps, but he is actually quite personable. After admitting to stealing his setlist from the stage during the performance, he said, "That's O.K. We're pretty tight with the music and know where we are going."
All members admitted that getting signed to a record deal and receiving a substantial radio airplay has not resulted in instant fame and fortune. "That doesn't matter. It's about the music," said Matt.
And, so is the state of the music business — no plush hotel suite with penthouse windows for throwing TVs out. They had to hurry on their way. After sleeping on the tour bus, they had an eight AM radio interview. Not even able to remember what city their dawn interview was taking place in, they did know there was no rest for the wicked. Asked if he was going to have to play live on the radio, Brad's face took on the yawning, sleepy, closed eye look as he started playing air guitar.
Following the morning appointment, they had to get back on the bus and head for their evening show in Washington, D.C. "I still ain't got no money," said Daniel.
Setlist
Dr. Dr. Dr.
Tiny Little Robots
Lotus
Monkey Song
Back Against The Wall
Back Stabbing Betty
In One Ear
Ain't No Rest For The Wicked
Aberdeen
Japanese Buffalo
Judas
James Brown
Free Love
Sabor Tooth Tiger