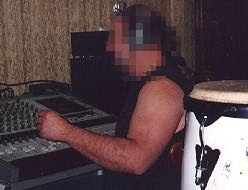 Click here to download this 9 kByte image.
Seven Sound Engineer and occasional Percussion
A shadowy figure lurks behind the scenes at every Gray Matters' performance. The sound engineer is shrouded in anonymity and darkness, but is essential in shaping the band's sound. As a permanent member of the band, Seven ensures that Gray Matters has a high quality and consistent sound at every gig. He has the proper equipment for nearly any venue, small or large, indoor or outdoor. Seven has worked extensively in both studios and at live performances in Western Pennsylvania, Youngstown and Columbus.
created by Todd Culman