Todd Culman's Music
*Best R & B Instrumentalist
Todd Culman plays piano, keyboards and a little bit of percussion and also composes and arranges pop/rock/funk/jazz music. Originally from Cincinnati, Ohio, he has studied classical piano from Pamela Kimball- Smith and jazz performance, improvisation and writing under John DeFoor at Xavier University.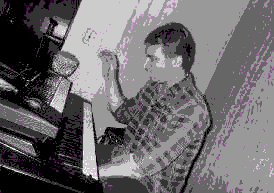 Todd is currently playing in the Central Ohio Funk and R & B band called Gray Matters and has played in the now-defunked alternative rock band dog tooth violet (no relation to the London based alternative metal band Dog's Tooth Violet). Not only does he have experience as the rhythm section leader of the Xavier University Jazz Ensemble, but also the entire rhythm section for the vocal group Scat-So-Frantic. Frequently, Todd has accompanied both classical and jazz soloist, played in a number of church groups, and performed with the Cincinnati Civic Orchestra.

Todd at ComFest 95 (17k)

Please visit the Gray Matters Page

For some other music sites on the web, visit the Membrane Domain



created by Todd Culman *Todd was nominated for best R & B instrumentalist at the 1994 Columbus Music Awards.