You have reached an archived page. Please click here for current information.
MUSE GALLERY and FOUNDATION For The Visual Arts
is proud to present:

PAULETTE BENSIGNOR
"MYSTERY LANDSCAPES"
Show Dates: June 4th - June 29th, 2003
Reception for Artist, "FIRST FRIDAY", June 6th, 5-8pm

MUSE GALLERY
A Non-profit Exhibition Space
60 NORTH 2ND STREET, Phila.,PA 19106

Gallery Hours: Wed - Sun, 12pm - 5pm
By appointment - 215- 627- 5310/610-664-0972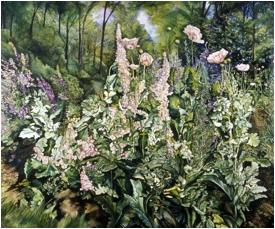 Garden Series no. 10 17" x 9"
hand colored dry point etching on rag paper
Paulette Bensignor's work gained attention in the 70s- 90s in New York City with the introduction of her hyper landscapes.

Bensignor works in many mediums. She doesn't recognize where one medium ends and another begins.

She is interested in fusing line and color into form, the merging of two dimensions into three, figurative representation into abstraction and the merging of the Eastern use of perspective into Western perspective to create new views.

The emotion of her work combines with the use of extremely fine lines and and color which can suggest an underlying theme.
MUSE GALLERY is a venue through which professional artists exhibit a variety of contemporary and experimental expressions to present socially conscious dialogues.

The gallery is located in the heart of Old City,
Philadelphia's Art Community between Arch & Market Streets.
Director: Sissy Pizzollo

| Paulette's Homepage | Gallery of Paintings | Gallery of Sculptures |