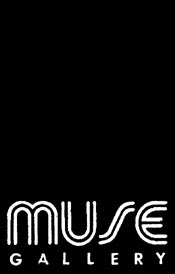 Meet the Artists
ARTIST PROFILE - Laura Pritchard
Selected Works (Click on the thumbnail for larger photo)

Title: Anime
Size:
Date:
Medium:

Title: Fulani
Size:
Date:
Medium:

Title: Eye For An Eye
Size:
Date:
Medium:

Title: Annunciation
Size: 26" x 29"
Date: 2004
Medium: Batik on Silk

Title: 50
Size: 21" x 30"
Date: 2004
Medium: Batik on Silk

Title: Frisbee Hat
Size:
Date:
Medium:
PRESS RELEASE - For more info contact Laura Pritchard at
Local Artist Wins Solo Exhibition - The Muse Gallery of Old City, Philadelphia, will present Wyndmoor artist Laura Pritchard in a solo exhibition of her unique portraits, December 1, 2004 through January 2, 2005. Ms. Pritchard is known for her mastery of the ancient process of batik, which uses molten wax as resist and French dyes painted on stretched silk. The pieces do not resemble traditional batik. They appear to float in their frames and are "unlike anything you've seen before"; Meri Adelman, Curator, Woodmere Art Museum, Philadelphia. Adelman goes on to write "The image strikes first: powerful, tribal, vibrantly-colored and absolutely multi-cultural, an unusual combination of patterns, symbols, and motifs culled from around the world."
Asked to characterize her work, the artist explains, "My works are about constructing enigmatic, fantastic faces which invite the viewer into a world rich with color and detail." One reviewer, Pat Johnson, wrote "Laura Pritchard finds a common thread that runs through many cultures. . . the picture satisfies on so many levels." University of Pennsylvania professor of Fine Arts, Nick Vidnovic, comments "Standing in front of these faces transfixes and transports." Sculptor Harry Robinson describes Pritchard's work as "witty and imaginative".
Gallery hours are Wednesdays through Sundays, noon to 5 pm. In addition, the gallery will be open for First Friday, December 3, until 9 pm, and there will be an opening reception on Sunday, December 5, from 2 until 6 pm.