---
"Concert Reviews"

Sponsored In Part By
---
Rush
Van Andel Arena, Grand Rapids, MI
October 23rd, 1996
On October 23rd, Christmas came early to West Michigan Rush fans. Not only was the progressive rock trio the first rock concert at the new Van Andel Arena, but this was also the first time in the nearly 25 year career of Rush that they performed live in Grand Rapids. And for those who thought this was going be considered a warm-up night for their Palace date on the 25th, they saw differently.
After a 3 year break for solo projects, domestic priorities, vacationing, and drum lessons, Rush members were looking very forward to being back in front of their fans again. In fact, the band wanted this to be such a special night for them and their fans, they decided to present this tour as "An Evening With Rush." So, to give more time on stage for a longer list of material, instead of their usual 2 hour show, they presented (as Pink Floyd and Genesis) 2 sets of both newer and older, classic material. And yes, that famous drum solo by the professor, Neil Peart. Neil was suffering from a cold this night, but no one would've known it. From the minute Alex Lifeson, Geddy Lee, and Neil hit the stage, fans could see how much they missed their live performances.
Although the show suffered a little while getting the sound right, the band was at its best once more and even threw out some rarities this time in performing "2112" in its album entirety, as well as "Natural Science" (from PERMANENT WAVES) for the first time since that '80 tour, plus other crowd favorites like "Tom Sawyer," "Spirit of Radio," and "Roll the Bones" with a comical rapping skeleton on the large video screen.
Hopefully, as fans always start rumors, this isn't the last tour. Rush still seems to have many good years. Let's just hope they keep the idea of the "Evening With" tours.
- Michael Fuller
---
Poe
Reptile House, Grand Rapids, MI
October 11th, 1996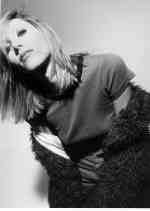 It may just be a nickname, but remember it because by next year Poe will, indeed, be one of the leading women in rock. She's already building quite a fan following here in Michigan, starting with this, her first headlining show. The Reptile House was packed shoulder to shoulder from the stage back to the door. And the stages are only going to keep getting bigger for her.
Poe not only projects a wide range of musical taste along with her band but also holds her role as band leader and frontperson, as if she was naturally born to do it, whether giving the crowd some funked up fun with "Hello" or showing what an indeed beautiful voice she has with a mellower tone during "Angry Johnny" or "Fly Away."
Poe enjoys the chance to visit a local coffee shop with some band member to do some acoustic playing for a while, but on this night she had to take off to Chicago instead... but not before hanging out in the cold and meeting her fans for a half hour after the show. Poe loves meeting and talking to people. And like her stage persona, she is one of the funnest people you ever want to meet.
- Micheal Fuller
---