Spagg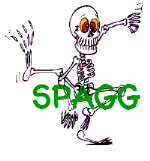 Spagg resides in Longview, Washington and have finally achieved (after four years of ideas, numerous line up and name changes) a sound that the band and listeners enjoy. Through a blend of melodic guitars, strong rhythm section, and powerful vocals, Spagg has finally found its niche.
The band is made up of five members. My name is Jim, and I play bass in the band. I have been in a number of bands (school, cover, and original) since the age of 13. Chris, who is the vocals of the band, has been a long time friend and band mate. Erik, Dusty and Matt have been in other bands as well, bringing all of their valuable experience to combine with ours. Everyone in Spagg has something to contribute and we share a special relationship in that we are working our asses off to make each others dream come true. Our dream is to live well doing what we love: MAKING MUSIC.
We have played with bands such as: the Jimmies, Monster Truck Driver, Apt.3-g, Skiploader, Motorgoat, Napalm Beach, The Weaklings, Black Jack, North American Bison, and others. We have learned a great deal from these bands, and gained a few solid connections in the music industry. As for our live shows, we have delivered our sets in a true punk fashion and pick up new fans everyday. Brett Walker, a reporter for the Logos, writes about one of our shows: "It's great to see them doing what they do best: playing live. Playing great songs like, Down by the Water, Summer Dress, Master Blaster, and my personal favorite, Dig My Grave(with a broken bottle) these guys set the Armory on fire, and whipped the crowd into a moshing frenzy."
Our seven song tape was recorded at Shoreline Studios-engineered by Dale Groff and Art Diaz, guitar player for Laughing Gas. We have put our tape in stores like 13th Ave. Records and Just music all the while selling them when playing on the road. We hope to spread our music as far as we can for as long as we can to anyone who wants to hear it.
We will be touring in order to promote our next album and will be traveling as far as funding will allow... hope to see you along the way (which ever way that may be). - Spagg