Do You Hear What I Hear?
original words and music by Noel Regney & Gloria Shayne
adapted by the Philadelphia Spirit Experiment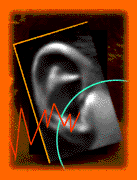 If you listen really close...
If you listen...
You will hear. Said the night wind...
Do you see what I see?
The shepherd boy heard...
A song, with a voice as big as the sea.
While all the while a Child shivers in the cold.
The World We Live In
To find out more about how this song fits into today's world, please click here.
Multimedia Downloads
Thank You
The Youth of the Presbyterian Church: Chanting Vocals

Axis Design & Impact Technology: The Ear Animation
---
All music is written and recorded spontaneously.
c. The Philadelphia Spirit Experiment Publishing Company
These graphics, images, text copy, sights, or sounds may not be used without expressed written consent of theGlistening Web Communications Corporation.