New England Railroading
This feature presents a variety of images related to railroading in New England. It is constantly growing as I add new images from my collection and images provided by others on the 'net.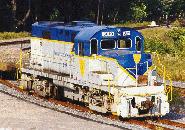 "Delaware - Lackawanna" RS36 #5019 at Braintree MA. This privately owned unit was leased to an MBTA contractor for use on the new Old Colony lines during summer 1997. It was originally D&H 5019, and wears a slightly modified version of its original paint scheme.
Photo: From the collection of Webmaster


---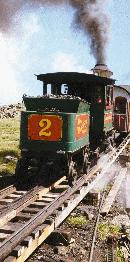 Mount Washington Cog Railway #2 rumbles upgrade near the summit of the mountain. The photo is shot from a down-bound train which has gone into a siding to let three upgrade trains pass.
Photo: Webmaster
---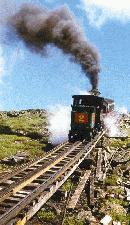 Another photo of Mt. Washington Cog #2.
Photo: Webmaster
---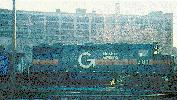 Guilford/Boston & Maine GP39-2 #361 (ex-D&H 7601) at Sommerville, MA, March 26 1991. This locomotive is now working for Union Pacific as #2740.
Photo: Webmaster
---

Maine Coast Railroad RS-1 #46 at Wiscasset, Maine, August 1992. This elderly Alco unit was working in tourist-train service on the former Maine Central Rockland Line.
Photo: Webmaster
---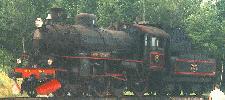 Belfast & Moosehead Lake's Swedish 4-6-0, #1149, at Unity, Maine, in August 1995. This locomotive, named Spirt of Unity, spent decades in storage in Sweden before being imported to the US for tourist service on the B&ML.
Photo: Webmaster
---

Spirt of Unity approaching the Unity turnable for a between-runs spin, August, 1995. The turntable is ex-Maine Central. The maintenance equipment at far left is B&ML's fire train, which follows the steam locomotive to put out any spot fires caused by sparks and cinders.
Photo: Webmaster
---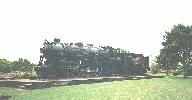 Maine Central 4-6-2 Pacific #470 on display at Waterville, Maine, August 1995. This was the last locomotive under steam on the Maine Central. Following retirement it was put on display beside MEC's Waterville yard, where it remains today.
Photo: Webmaster
---

Wiscasset, Waterville and Farmington #9, a two-foot gauge 0-4-4T, at the WW&F Museum, Alna, Maine, in August 1995. Built by the Portland Locomotive Works in 1891 as Sandy River RR #5, this locomotive became Sandy River & Rangely Lakes #6, then Kennebec Central #5, and finally Wiscasset, Waterville and Farmington #9 before being retired in the 1930's. After many years in a private collection, SR&RL 6/WW&F 9 is now on display in Alna, Maine. It is the last surviving SR&RL locomotive.
Photo: Webmaster
---
This feature created and maintained by Webmaster.
Copyright &copy 1997-1999 Webmaster. All Rights Reserved.
All photographs are copyright by the photographer.