---
"Eat at Joe's"

by Joe Szilvagyi
---
Nil Lara-NIL LARA
(Metro Blue Records)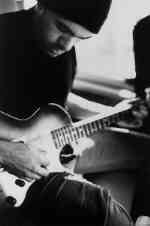 Good Tunes: This is an exquisite blend of different ethnic musical backgrounds and modern pop music. Every track develops slowly into a rich tapestry of sound.
Bad Notes: The middle stretch of this recording seems long winded from time to time.
Other Riffs: So many different instruments are jammed into this recording that it's fun to try to name each sound as you hear it.
---
Jane Jensen-COMIC BOOK WHORE
(Flip Records)
Good Tunes: Garish colors and exaggerated emotions are heard throughout this album. Sometimes fluid, sometimes not, always interesting.
Bad Notes: As interesting as this album is, the occasional screams and whining can be irritating at times.
Other Riffs: For those who keep track of these things, Siouxsie and the Banshees guitarist John Carothers is among the ranks of Jane's band members.
---
Black Tape for a Blue Girl-REMNANTS OF A DEEPER PURITY
(Projekt Records)
Good Tunes: A dark search for faith and truth is presented through dark tones, ethereal vocals, and a faint glimmer of hope.
Bad Notes: As with most ambient music, this disc relies mostly on atmosphere and mood, rather than structure.
Other Riffs: If you like this recording, Black Tape for a Blue Girl has six others with similar themes for you to hunt for.
---
Decoryah-FALL-DARK WATERS
(Metal Blade Records)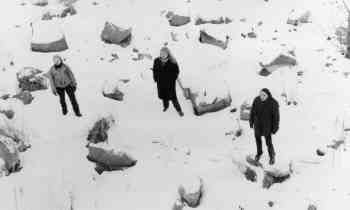 Good News: Somewhere between rock opera and ambient is a rich recording that rises and falls, that crashes in all the right places and flows evenly when needed. That somewhere is this album.
Bad Notes: The intermittent lyrics only serve to disturb the enchantment that pours from this recording. Thank goodness for track skip buttons.
Other Riffs: This is not what I've come to expect from Metal Blade Records. I hope they continue to expand their repertoire so they can sufficiently support these new bands.
---
The Virgin Whore Complex-STAY AWAY FROM MY MOTHER
(Emperor Norton Records)
Good Tunes: Hoping to be king some day is just the beginning of the dreams on this disc. Quirky lyrics are the main feature here, but don't forget the wonderful layers of music laid down as a comfortable cushion to soften the blow of those lyrics.
Bad Notes: Some of the lyrics catch you off guard, so be prepared to stop whatever it is that you are doing to think about them.
Other Riffs: Swimming against the mainstream music industry reduces the chance of seeing this band headline a stadium show to almost nothing.
---
Ekoostik Hookah-DUBBABUDDAH
(Universal Records)
3000B East Main St., Suite 253, Columbus, OH 43209
Good Tunes: Jamming, rhythmic tunes that are easy to lose your troubles in are packed into this disc. Psychedelic or classic, Ekoostik Hookah is just here to remind us to relax and enjoy life.
Bad Notes: I missed their show here at the Small Planet back in October [but he saw their November show - GW].
Other Riffs: For a two year old disc, I'm surprised that I'm just hearing this now.
---
JOE'S SALAD BAR (EPs and Vinyl)
The Notwist - ONLY IN AMERICA - Zero Hour Records
More than a metal band, The Notwist explores the depths of hard edged music with larger themes and a wider dynamic range than most of its contemporaries.
Love Spirals Downwards - SIDEWAYS FOREST - Projekt Records
A major attraction to ambient music is its ability to set a mood and maintain it for an extended period of time. This single is held back by not being long enough. It's barely an appetizer for a band capable of keeping a listener suspended in a rich world of trip-ambiance.
Jonatha Brooke - EMMANUEL - Blue Thumb Records
Modern electronics widen the range of possibilities for this traditional tune without stripping it of its heritage.
Gumption - DON'T SCREW UP/STARTING LINE
Spongebath Records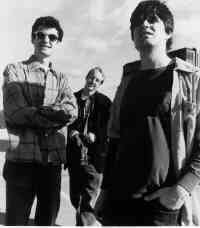 Nothing new here, just another power pop band on pink vinyl singing about staying together or breaking up. If you like guitar driven pop, then here's some more for you.
Questions? Comments? Want to contact Joe Szilvagyi for any reason? You can e-mail him at zagatto@aol.com
---
Sponsored In Part By